from:
september 9th, 2005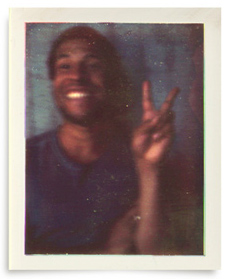 This morning, I heard news that a dear friend of mine - alexis - who i had the wonderful pleasure of producing many stories with (while working as an AP at cbc radio 3), and laughing with, brainstorming with, our desks head to head - chasing down stories with- alexis has apparantly suffered a heart attack and is now in a coma in a hospital in reno. they're saying he has a 50-50 chance to live right now. I'm really not sure what to think. Part of me is totally in shock that a wonderful, beautiful man who is only 27 years old now has had this happen to him. Part of me
knows
that he will be o.k. - if anyone would pull through this it's him - but then again, he's the last person i ever thought would have a heart attack in the first place... He is such a strong, good, guy. I just saw him last week and had the salt from his greeting kisses on my lips and my cheeks for the rest of the day.
I've been so fortunate in my life to have had the pleasure of learning with and working with so many fantastic people who have filled my life with inspiration, friendship, love, laughter and, well, joy. I feel that those who i have worked with, built things with, learned with, grown up with - they have all become very much a part of me. Today and always I send all my love to everyone of them. Please take good care of yourselves as you are loved and wanted and required in this world.