from:
april 6th, 2005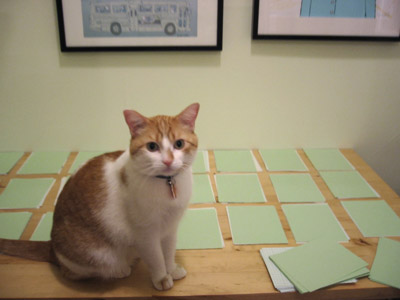 elliot loves to help.
- - - - - - - - - - -
it is unfortunate to have a career in the 'paper-arts' when you have 2 ultra-affectionate kitties hanging about. What is it about kitties and papers? why do the kitties and me share the same interests? anyways, when i sort book pages it is always a challenge. a challenge of patience, skill, and wit!
today, i got back in the flow of things! workwise at least. I was expecting a delivery of paper supplies sometime today, so I couldn't sleep properly after i got up for my traditional 9 am pee. I lied in bed desperately trying to fall asleep, the delivery on my brain, jumping at every sound coming from the hall, until about 10.30 i finally got up. I then worked buck all day until about 5 o'clock when my dad dropped by and i realised that maybe i should consider brushing my teeth and putting on some underwear. However, my dad lives off on his own planet most of the time (a planet comprised of bicycles, tea, left-overs, and chi gong with a little sawdust on top), so he didnt seem to notice my stinky dishevelled state anyways.
oh! i went the whole day without ever leaving the house. isn't that grand! and i didnt even notice until now.
lovely!